Like most homeowners, you're likely always looking for new ways to save on your home energy bills. Energy bills add up quickly, impacting not only your wallet but the environment as well. Were you aware that your clothes dryer could be a major factor; racking up your energy bill needlessly? When its exhaust vent is clogged, it could cost you hundreds of dollars a year and also increase your carbon footprint. After all, a clogged dryer vent can add up to an additional $20 per month to your energy bill. That's where we come in. The Vent Guys can clear out your dryer vent with professional dryer vent cleaning at your Woodbury home; increasing their efficiency and helping your home get back on track.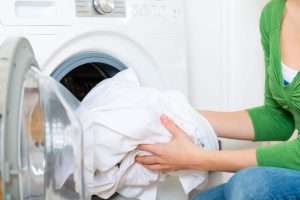 When your dryer isn't working properly, it can make doing the laundry an even more time consuming and frustrating project than it already is. Why? Over time, your dryer pushes lint through your lint trap and into the dryer vent. The lint accumulates on itself and eventually restricts the air flow. This air flow restriction will cause your dryer to perform at its far below its optimum efficiency level. It can cause longer drying times, which wastes energy and costs more to dry each load of clothes.
Many people think their dryer is just old and that is why it takes more than one cycle to dry the clothes. That is not the case, typically it just means that your dryers vent needs to be cleaned.
An annual professional dryer vent cleaning by our dryer cleaning service is hands down the best way to keep your dryer running safely and efficiently. But until then, we'd like to provide you with some tips to help increase your dryer's efficiency:
Clean the lint trap regularly between each load
Don't allow kinking to occur
Check to make sure debris or plants aren't blocking the dryer exhaust outside your home
And these are just some of the things you can do to increase your dryer's efficiency in the meantime. But, of course, it is important to have your dryer vent cleaning scheduled right away. Now is a great time to schedule dryer vent cleaning as it can prepare your dryer for the months ahead.
So, take care of your dryer vent and help improve your home's efficiency with professional dryer vent cleaning today!
Ready to schedule reliable and professional dryer vent cleaning for your Woodbury home? Call the Vent Guys at 612-492-1342 or contact us and Request Service.