Dryer Vent Cleaning Maple Grove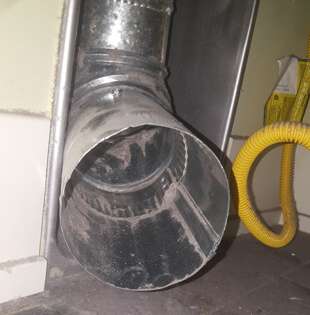 If you want safe dryer vents, they must be properly cleaned and cared for. As a trusted company offering dryer vent cleaning in Maple Grove, the Vent Guys understand how important it is to make sure your dryer vents are safe and clean. Did you know that clothes dryer fires are one of the top causes of household fires each year, causing approximately 15,000 fires annually? Having your dryer vents cleaned on a regular basis will help prevent dryer fires, plus they can help your dryer to work more efficiently. And that can save you some money on your utility bills.
A dirty, poorly working dryer vent is not only dangerous but expensive too! A clogged dryer vent can add up to an additional $20 per month to your energy bill. Laundry is in and of itself a time consuming task, and when your dryer isn't working properly, it can make it even more time consuming and frustrating.
How does it happen? Over time your dryer pushes lint through the lint trap and into the dryer vent. The lint then accumulates and eventually restricts the air flow. This air flow restriction is what causes your dryer to lose its efficiency. It can cause longer drying times, wasting energy and costing more to dry each load of clothes.
So, don't put off your dryer vent cleaning any longer! Contact the experts at the Vent Guys and we can tell you more about this essential service and get you on our cleaning schedule straight away.
Our Dryer Vent Cleaning Services
When you hire us for dryer vent cleaning, we will come to your home and do a thorough and complete job. We will make sure the vents and hoses are properly cleaned, and we can also inspect them for damage to make sure they are working as they should be.
You will find our technicians to be both knowledgeable and friendly, and they are always happy to answer all of your questions and address any of your concerns.
Dryer not working properly? Before you go out and buy a new dryer, make sure your dryer vents are checked first! A simple dryer vent cleaning may be all you need and costs a lot less than an entirely new dryer. Whether you are shopping for a new dryer, have purchased a new dryer and it is not working properly, or even have a new dryer that is working, it is a good idea to have the Vent Guys out to inspect and clean your dryer vent to make sure everything is performing at optimal levels.
Learn More about Dryer Vent Cleaning
When you need reliable and professional dryer vent cleaning in Maple Grove, call the Vent Guys at 612-492-1342 or contact us and Request Service.